Many times life events trigger the need to sell a asset. 6 years ago I bought as many investment properties as possible in order to generate enough rental income to never have to work another day job again. By using other peoples money to buy a assets that tends to rise in value over time, one can leverage everything he does not have to his advantage. The steady income stream may be used to pay down debt. To capture 100% of economic benefits with only a 20% down payment felt to good to be true, so I bought as much as I could.
As the prices continue to rise, I've noticed more and more investors inquiring about how to know when to sell. This article should give you a good idea or at least give you some things to think about.
Considerations for when to sell a investment property:
1.) A major life event takes place. There are some key events that warrant evaluation of continuing to hold a property. A new family member, a death in the family, a layoff, or a job relocation are just a few. Major life events may take up a lot of your time and money. If you are unable to work keeping the property for passive income may be your only choice.
2) When you have greater sources of passive income. Besides rental income, there's dividend income, bond income, REIT income, real estate crowdfunding income, P2P income, CD income, and royalty income. It's important to have a diversified passive income stream because you never know which asset class may get pounded and which asset class will flourish. For your review, I've conveniently ranked the best sources of passive income in the chart below.
With an activity score of 6 (10 being the best with the least amount of activity required), rental property is the passive income stream that requires the most amount of activity. This is fine if you compare rental income to day job income (activity score 1). But if you have other sources of passive income that generate just as much or more, then real estate becomes less optimal.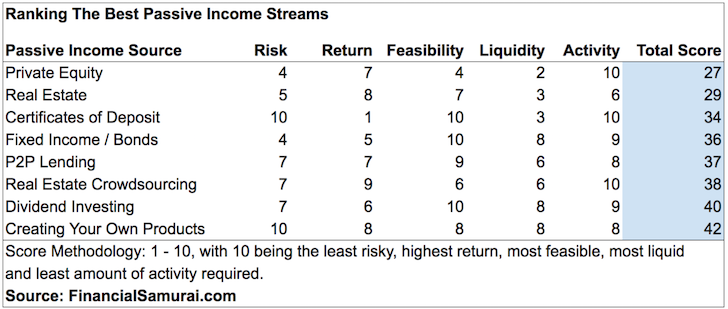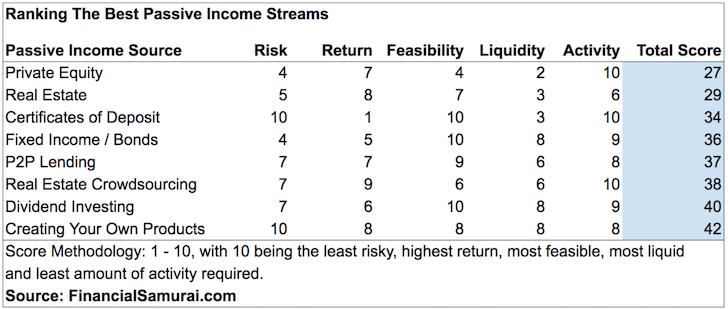 3) When your cap rate is below the risk free rate of return. Think of a cap rate as your net rental yield. Cap rate can be calculated as Net Operating Income / Value Of Property. NOI is calculated by subtracting all expenses from gross rental income. If the cap rate is below what you can earn in a risk-free 10-year Treasury bond doing nothing, you should consider selling because you're not being adequately compensated for the risk you are taking.
My house's gross rental income is ~$100,000 a year. Its NOI is roughly $75,000. My cap rate on my purchase price of $1,525,000 is therefore 4.93%. Not bad, given it's ~2.6% higher than the risk free rate of return. However, my cap rate on the current market value is only about 2.7%, a level that's very close to the 10-year bond yield. If I were to spend $9,000 a year on a property manager, which is what I think is required to find a premium renter and keep my sanity, my cap rate falls to only 2.4% based on today's market price. Now if you add on my $20,000 a year in mortgage interest cost, my net rental yield is even lower.
Places like San Francisco, Hong Kong, London, and New York City have had low cap rates for decades because investors have banked on principal appreciation. However, as the world becomes more connected due to technology, I forecast cap rates will increase as property prices eventually come to trade based on long term earnings fundamentals.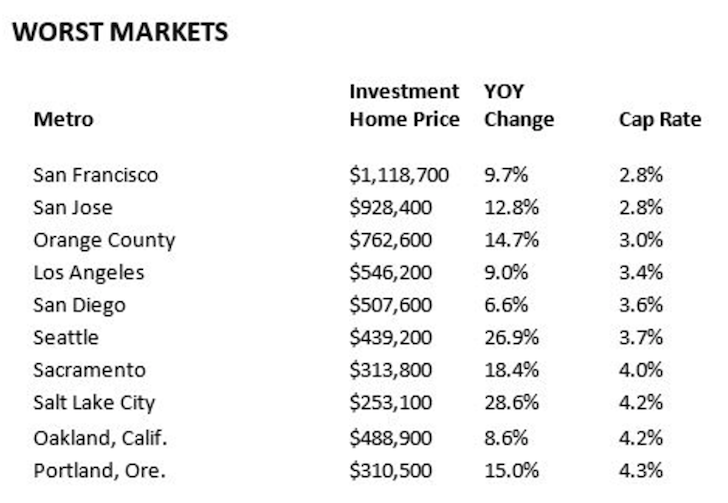 4) When you can BURL like a champ. BURL = Buy Utility, Rent Luxury. If you're able to easily allocate capital towards investment properties that trade at low gross annual rent multiples (high cap rate) to generate tremendous cash flow to pay for a rental property in an amazing location that trades at a high gross annual earnings multiple (low cap rate), then you should go for it. This arbitrage is one of the best lifestyle and money hacks I've come up with.
See my post Buying and selling commercial property here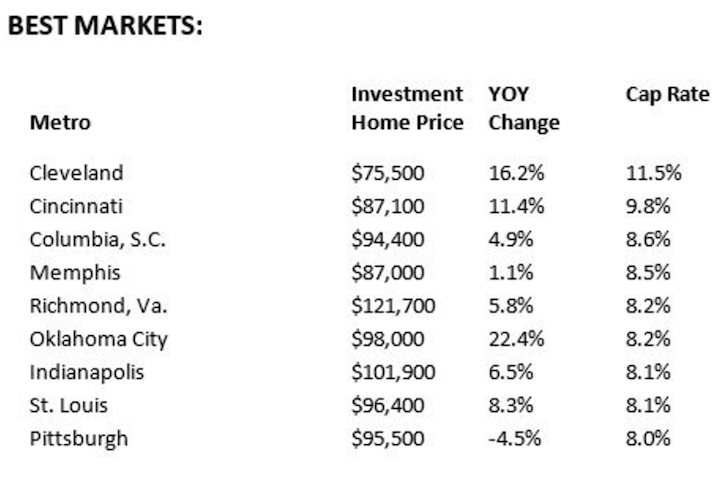 5) When the joy of owning is less than the joy of doing something else more important. The more money you make, the less joy you will experience collecting rental income. It's just like eating your fifth slice of apple pie isn't as enjoyable as your first.
Although rental income accounts for roughly 50% of my total passive income, net rental income accounts for less than 10% of my total income. While I'll always feel proud driving by one of my properties, the concurrent joy I also felt has faded. Instead, I now view the properties as pure income generators, without the nostalgic memories. As soon as you can take emotion out of your investments, you become a better investor.
6) When there is a large supply of property in the pipeline. Real estate price performance is determined largely by the growth in jobs, income, and supply. If you see a large pipeline of condos over the next several years, there will inevitably be downside pricing pressure. The key is to sell before the market gets flooded. Pricing pressure is always worse once the condos / new homes come on market because people usually underestimate their impact.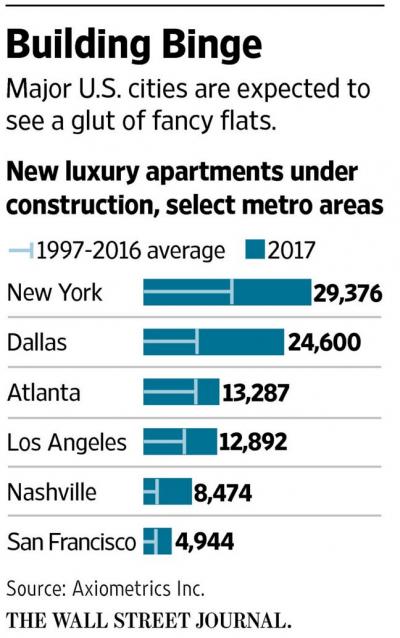 7) When homeowners are targeted for excessive tax hikes. City and State governments love to make homeowners pay for new projects through higher property taxes instead of increasing taxes or fares on patrons. For example, instead of raising train fares in the SF Bay Area, the government decided to make homeowners pay higher property taxes for the next 10 years to fund a $3.5B train bond. I take the train once every six months because it's hardly on time.
Although a logical conclusion would be that higher property taxes will lead to higher rents, it often takes time to pass the extra cost to the tenant. If there appears to be no end in sight for ever higher property taxes (NJ, IL, CA residents in particular), it may be time to do a 1031 exchange to a more tax friendly state.
I'm currently paying $21,875 a year in property taxes on a home that has an assessed value of $1,890,000 (= 1.18%). Some would say that's great because the market value is higher, meaning I should really be paying over $30,000 in property taxes. But in my opinion, at $21,875 a year, the property tax amount is already way too high. $21,875 is more than some people pay in rent a year.
In contrast, a house valued at $1,890,000 in Honolulu would only pay an annual property tax bill of $5,670, or roughly 1/4th the amount I pay in San Francisco. Therefore, anybody who wants to geo-arbitrage US property taxes should consider buying a retirement home in Hawaii. Hawaii ranks #50 in terms of property tax percentage by state in America, and it's ranked #1 in terms of quality of life in my opinion.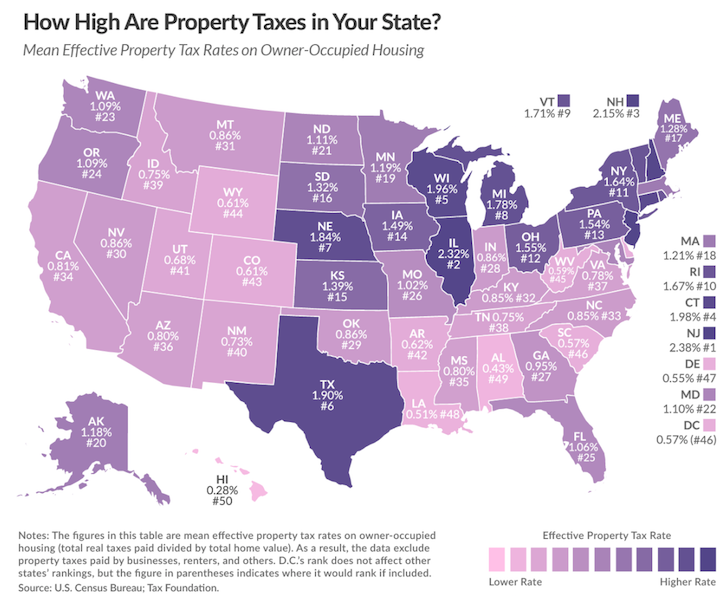 8) When real estate commands greater than 50% of your net worth. I don't recommend anybody have more than 50% of their net worth in one asset class over the long term, especially if debt is used to acquire the asset. As you inch towards financial independence, it's better to have three or four main asset classes that each count for 25% – 33% of your net worth. It's important to have asset classes that zig when others zag. Or have assets that generate income while others crumble. During the financial crisis, many Americans got wiped out because 80%+ of their net worth was tied to their primary residence.
If you are thinking of buying or selling in the Tampa/St.Petersburg Florida area visit Pinellas Commercial Properties . Here you can search for properties or get a free market analysis for your property and even go on to list and sell it with their services. Alex P Williams is the broker and they always do a good job for me.
commercial property brokers

commercial brokerage firms

available commercial property

broker commercial

commercial property dealers

commercial broker

commercial office brokers

top commercial brokers

commercial representative

commercial and industrial property for sale

commercial real estate broker

commercial real estate firms

commercial estate agents

commercial property estate agents

top commercial real estate firms

top 10 commercial real estate firms

top 5 commercial real estate companies

best commercial real estate firms

commercial real estate brokerage firms

commercial real estate brokerage services

commercial real estate services firm

top commercial real estate brokers

largest commercial real estate brokerage firms

largest commercial real estate brokers

largest commercial real estate firms

top commercial real estate brokerage firms

commercial real estate lookup

commercial real estate company rankings

commercial real estate investment broker

list of commercial real estate brokers

how to get into commercial real estate

commercial real estate for sale and lease

find a commercial real estate broker

best commercial real estate brokers

top 20 commercial real estate companies

real estate office

largest real estate brokerage firms

multi unit real estate

multi family real estate brokers

multi family real estate

multi family residential real estate

multi family real estate agents

multi family real estate companies
St.Petersburg Commercial Real Estate Agent| Madeira Beach Listing Specialist | Treasure Island Listing Specialist | Largo Florida Listing Specialist | St Petersburg Fl Multifamily Agent | Seller Representation 33772 |
Sell My Home Fast St Pete Beach | Whats my home worth St Pete Beach | South Pasadena Fl Listing Specialist | Seminole Florida Listing expert | Glossary of Real Estate Terms | Waterfront Homes for sale in St Pete Beach |
Qualified Opportunity Zones - Alex P Williams | How to do a 1031 Exchange - alex P Williams